SpiderChart is here to help to represent strengths and weaknesses of a product, a service, or even a project.


You can define your own criteria (at least three) and customize the scale of representation : minimum and maximum value, step between values.
This application is currently localized in:

English

French

German

Spanish

Japanese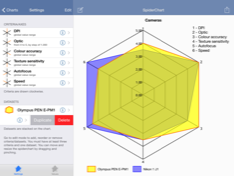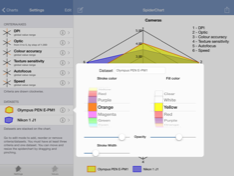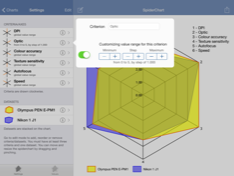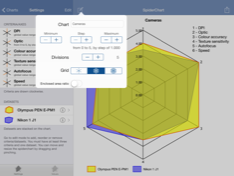 Add a Comment
Comments (14)
Edward
September 25, 2014 3:52 pm
I dont have the values entry to work, also, can I have different axes values, is this possible with this version, any help will be appreciated,
Andy Farr
September 9, 2014 5:23 am
This app is excellent however quotes part way through very disappointing


Jason
August 26, 2014 6:09 pm
Does SpiderChart have a notes section along with the chart ability. For instance - if I was using it to rate apples, I'd like to chart sweetness, size, cost, crispness. But it would also be nice to have a space to indicate color or even add a photo.
Admin
October 16, 2013 12:10 am
Gigi, thanks for your suggestion, I will take a look at it but I am not sure whether or not it can be done. SpiderChart update for iOS 7 is currently waiting for review, stay tuned!
Gigi
October 3, 2013 8:39 pm
By the way I'm on iPad 2 with iOs7, no problem.
Gigi
October 3, 2013 8:37 pm
If I could send data from numbers to spiderchart will be amazing for my needs! Good work however
Admin
September 15, 2013 11:25 pm
In a few days iOS 7 will be released to public, it is a known fact that SpiderChart isn't really running well with this new iOS version.

I am currently working on an update that will fix those issues.

Admin
July 11, 2013 11:55 pm
SpiderChart 2.0.1, which fixed this bug is currently waiting for approval. I apology for the inconvenience this situation may cause.
RussD
July 11, 2013 4:30 am
Just updated to version 2.0 and SpiderChart crashes about a second after the initial app graphic is displayed. I tried a shutdown & restart of my iPad 1 and then tried deleting the app & re-installing but it still crashes on every attempt to launch.
bgt2
March 1, 2013 3:10 pm
Hello,
why Spiderchart is not available for iPhone?
Thank's.
RussD
February 23, 2013 6:12 pm
Suggestion: Compute the area enclosed by the chart of each dataset, normalize those areas to a scale from 0.0 to 1.0 and display them under the name for each dataset on the graph. This could provide a simple aggregate indicator of which dataset is ranked higher overall.
Admin
April 14, 2012 10:33 am
To J.Galhoz
Do you mean you would like to have a scale setting by criterion?

Thanks for your suggestion, it will be included in version 0.9.5 as 0.9.4 is already waiting for review (Deutsch localization)
J.Galhoz
April 12, 2012 7:53 pm
Can we have diferent maximums?
I often need a point of the poligon to be bigger than others!
(some criteria must have more influence than others)
Merci.
Admin
April 5, 2012 7:33 am
Feel free to leave your comments