SpiderChart 3 is your utility application to create, edit and export your spider charts, also known as radar charts, on your phone or tablet.
You need to compare strengths and weaknesses of products, services, or even companies, you want to compare skills or follow a temporal evolution? There is a simple app for that: this one!
This third major version mainly focus on user experience while working on your phone.

• Customize your grid
Choose to display: no grid, polygons, circles, choose how many divisions to show on grid.

• Customize your datasets (elements to be compared)
Choose the stroke and fill color, along with the stroke width.
Create as many as you need (but have at list one)

• Create as much criteria / axis as needed
The only limit is having at least three.

• Use the desired scale
You can change minimum and maximum values, the step between allowed values, globally, or on a criterion by criterion basis (asked by a user).

• See what you are doing!
While customizing your chart, datasets, criteria and changing values you always see your spider chart.

• Stay synced
Your data stay up-to-date on your multiple devices using iCloud.

• Final preview before export (on your phone only)
Zoom and scroll on your chart to check everything is alright before exporting it.

• Is it hard to determine which of the compared element is best?
Enable the enclosed area ratio to display a value between 0 and 1 indicating how much a dataset is filling the chart (asked by a user).
This application is currently localized in:

English

French

German

Spanish

Japanese

Chinese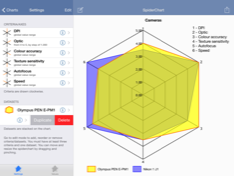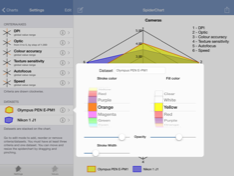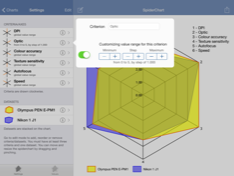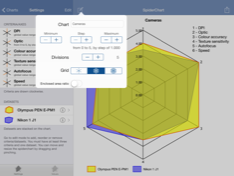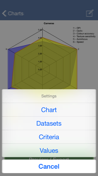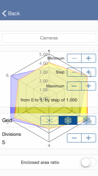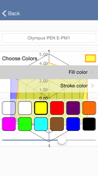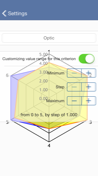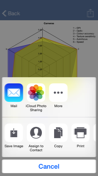 Add a Comment
Comments (14)
Edward
September 25, 2014 3:52 pm
I dont have the values entry to work, also, can I have different axes values, is this possible with this version, any help will be appreciated,
Andy Farr
September 9, 2014 5:23 am
This app is excellent however quotes part way through very disappointing


Jason
August 26, 2014 6:09 pm
Does SpiderChart have a notes section along with the chart ability. For instance - if I was using it to rate apples, I'd like to chart sweetness, size, cost, crispness. But it would also be nice to have a space to indicate color or even add a photo.
Admin
October 16, 2013 12:10 am
Gigi, thanks for your suggestion, I will take a look at it but I am not sure whether or not it can be done. SpiderChart update for iOS 7 is currently waiting for review, stay tuned!
Gigi
October 3, 2013 8:39 pm
By the way I'm on iPad 2 with iOs7, no problem.
Gigi
October 3, 2013 8:37 pm
If I could send data from numbers to spiderchart will be amazing for my needs! Good work however
Admin
September 15, 2013 11:25 pm
In a few days iOS 7 will be released to public, it is a known fact that SpiderChart isn't really running well with this new iOS version.

I am currently working on an update that will fix those issues.

Admin
July 11, 2013 11:55 pm
SpiderChart 2.0.1, which fixed this bug is currently waiting for approval. I apology for the inconvenience this situation may cause.
RussD
July 11, 2013 4:30 am
Just updated to version 2.0 and SpiderChart crashes about a second after the initial app graphic is displayed. I tried a shutdown & restart of my iPad 1 and then tried deleting the app & re-installing but it still crashes on every attempt to launch.
bgt2
March 1, 2013 3:10 pm
Hello,
why Spiderchart is not available for iPhone?
Thank's.
RussD
February 23, 2013 6:12 pm
Suggestion: Compute the area enclosed by the chart of each dataset, normalize those areas to a scale from 0.0 to 1.0 and display them under the name for each dataset on the graph. This could provide a simple aggregate indicator of which dataset is ranked higher overall.
Admin
April 14, 2012 10:33 am
To J.Galhoz
Do you mean you would like to have a scale setting by criterion?

Thanks for your suggestion, it will be included in version 0.9.5 as 0.9.4 is already waiting for review (Deutsch localization)
J.Galhoz
April 12, 2012 7:53 pm
Can we have diferent maximums?
I often need a point of the poligon to be bigger than others!
(some criteria must have more influence than others)
Merci.
Admin
April 5, 2012 7:33 am
Feel free to leave your comments