SpiderChart is here to help to represent strengths and weaknesses of a product, a service, or even a project.


You can define your own criteria (at least three) and customize the scale of representation : minimum and maximum value, step between values.
This application is currently localized in:

English

French

German

Spanish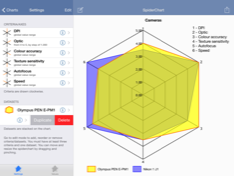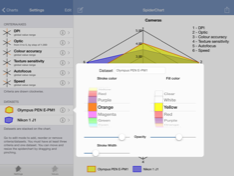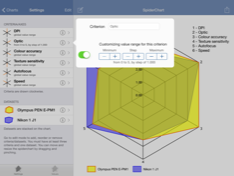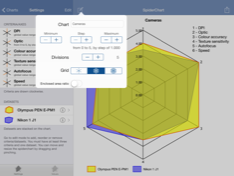 Add a Comment
Comments (5)
bgt2
March 1, 2013 3:10 pm
Hello,
why Spiderchart is not available for iPhone?
Thank's.
RussD
February 23, 2013 6:12 pm
Suggestion: Compute the area enclosed by the chart of each dataset, normalize those areas to a scale from 0.0 to 1.0 and display them under the name for each dataset on the graph. This could provide a simple aggregate indicator of which dataset is ranked higher overall.
Admin
April 14, 2012 10:33 am
To J.Galhoz
Do you mean you would like to have a scale setting by criterion?

Thanks for your suggestion, it will be included in version 0.9.5 as 0.9.4 is already waiting for review (Deutsch localization)
J.Galhoz
April 12, 2012 7:53 pm
Can we have diferent maximums?
I often need a point of the poligon to be bigger than others!
(some criteria must have more influence than others)
Merci.
Admin
April 5, 2012 7:33 am
Feel free to leave your comments